Larking about in Lanarkshire
May 26, 2010
Hiya cats n kittens. It's been a while, eh?
Man, I've been busy with a cap B! Governor stuff and work yesterday conspired to keep me away from The Blog Up North. Today looked set to be similar, but one Twitter direct message flooded in, asking why TBUN was being neglected, so I feel I should take a swing at it tonight.
The reason why an update looked decidedly dodgy today was because myself and my erstwhile boss man (for the purposes of this we'll call him…Bossman) made the journey from our workplace to a supplier's place in East Kilbride. How's your geography of the UK? The map below may help you.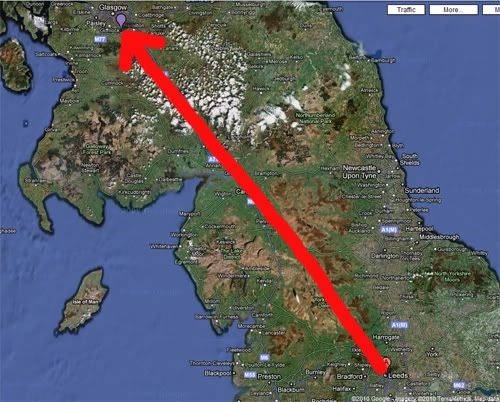 It's a round trip of over 430 miles. A decent-sized undertaking to be done in a day. It meant getting up at ridiculous o'clock (after working til 9pm the previous day) and hauling what can only be described as "serious ass" to get there and back in good time.
It's worth pointing out that the red arrow on the above map isn't our direct route. That would have been quicker but only in a…well, in a Red Arrow, what with there being mountains and stuff in the way. So we had to navigate the roads. I would normally rely on Google for directions, however Bossman offered to bring along his Tom Tom. How the hell would a drum help us, I asked. Oh right, it's a satellite navigation gizmo. Fair enough.
Along the journey, the sat nav became known as Feargal O'Satnav, for Bossman had chosen (for reasons best left unexplored) a lilting Irish accent as the voice of the oracle. We grew to love the way it said "motorway". We actually didn't mind its constant instructions to "keep roight" when we drove past lay-bys. We speculated what would happen if we ignored its instructions – "Oi said make a legal U turn, ya eeejit!".
The drive up was great. We breakfasted. We enjoyed the quite beautiful scenery around the Scottish border. When we arrived, we were greeted by the new, eager to please sales rep. With him was the semi-retired, old sales rep.
"Glad ye made it," said the old rep, a native of those parts. "I'm surprised ye made the journey all the way up tae here, yanno?"
We were perplexed and asked why he'd said that.
"Ach," he replied, "did Kevin not tell ye? There's a machine like the one ya came tae see up the road from your factory."
Oh. My. God.
You probably won't be familiar with this geography, so here's another map.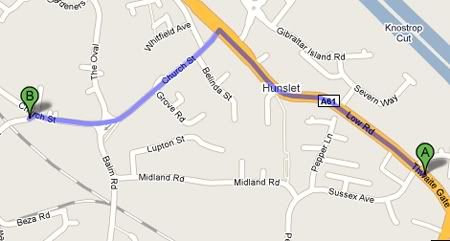 It's less than a mile from our factory. We could've walked there. How we laughed. Kevin the new rep was red-faced.
But hey, it got us out of the office for a day. Believe it or not, it was my first time over the border. I resolved to go back one day, and see some stuff that I CAN'T find on my doorstep.